#10 – Hitman
It's actually a little hard to hate movies like Hitman. Sure, it's bad– maybe even far worse than the other movies in this list– but what do you expect? Are you really surprised that a movie based on an already crappy videogame franchise is a giant steaming pile of goat shit? They say madness is doing the same thing expecting a different result, so either the trailer had somehow deluded you into thinking this movie would break the trend and somehow be awesome, in which case you're a fool, or you knew perfectly well it was going to suck and went to see it anyway, in which case you're terribly, terribly lonely and you enjoy pain. Those assholes who jump into frozen lakes naked are every bit as masochistic, but at least they know people to have waffles with afterward. Why do I bother?
So what's to say? It looked bad. It was bad. And the only people who saw it were morons and masochists.
What still stuns me is how this movie ever got made. Even as a videogame concept it's insipid. The movie couldn't be true to the videogame's story, because the game had none. From the beginning, every game has been little more than a sequential series of self-contained levels in which Agent 47 infiltrates a location, murders a few targets as inconspicuously as possible by posing as someone he throttles to death in a toilet stall, and leaves. Never mind that he's over six feet tall, bald, wears an expensive suit with a red tie, and sports a bar code on the back of his head and is therefore one of the most easily identifiable hitmen imaginable. About the only way you could make him more memorable to an eyewitness is to put a giant foam cowboy hat on him.
Of course, Hitman dispenses with all the subtleties the game thrived on; where the game was the sort where you might as well just restart the level when an alert is triggered, super-secret assassins in this movie dress alike, carry weapons, bombs, and twin swords emblazoned with a distinctive logo, and rack up extreme collateral damage while having running gun battles in public. It's a blisteringly stupid shoot-em-up where everyone packs two of every firearm and likes to shoot them in opposite directions, and they do so at every opportinuty.
The narrative is a catastrophe, edited together almost as if someone dropped the script on the floor and re-assembled the scenes out of order. Character motivations are completely indecipherable: why does Agent 47 persist in completing his mission when there is no doubt that his own brotherhood just set him up? Why is Agent 47 the sole subject of the Interpol agent's investigation when there are apparently dozens of bald assassins operating all over the world? Plans against certain characters are set in motion before the characters are aware of one another. Maybe if they shot it purely as an escapist tits-and-violence flick, it might have been serviceable, but there aren't enough tits, the tradecraft is laughable, there isn't enough violence, and what little violence there is is hilariously inadequate and incomprehensibly-shot.
I consider it bad form to compare movies to those made by Ed Wood except when absolutely necessary, but Hitman is every bit the movie Ed would made if he were trying to emulate John Woo. Packed with howlers in the script like "He belongs to a group known as the Organization: a society so secret nobody even knows it exists," the dialogue is so bad you'll hardly know whether to laugh or cry over a bottle of tequila, but trust me, you'll need that tequila. My abiding memory of Hitman will always be the Mexican standoff in a subway car in which three assassins surround Agent 47, inexplicably pointing guns at their own partners until 47 suggests a sword battle, which they agree to.
Oh, sweet tequila.
#9 – The Number 23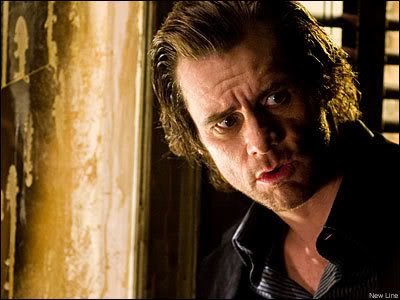 Let's just say that Joel Schumacher has been on my official shit-list ever since he took the noble Batman franchise and turned it into something even Adam West would feel ashamed to be associated with. I don't give Tim Burton much credit, but at least he took the Dark Knight in the right direction by making the Batman tale dark, brooding, and Gothic. But with movies like The Number 23, I continue to wonder how hacks like Joel still manage to find work in Hollywood. The guy can't be trusted even with idiot-proof franchises, and then he starts making thrillers based on numerology?
When did this ever seem like a good idea? Let's get this straight: numerology is stupid. At best it's an amusing diversion to discuss at parties, on the same level as the Ouija board with the same amount of believability as the Bermuda Triangle stories. Is there a story in the notion that maybe, maybe there's something more to the number 23? Something…supernatural?
No. No, there isn't.
It's just an arbitrary number, and it takes a tangible force of will to sit and watch about a movie about a man who allows this number to drive him to raving, paranoid mania. It's surprising that Jim Carrey's earnest performance manages to carry the first act of the story as well as it does, but neither of the story's twin schizophrenic narratives carry any dramatic weight because of their ludicrous premise, and the movie's second half brings twists, turns, and revelations that inspire only tension headaches and wearied sighs. What possible explanation for this movie's premise would make it worth watching? Either the number 23 has cosmic significance (and if so, so what?), there's an elaborate conspiracy around an number (a notion that's almost impossible to take seriously), or the character is out of his damn mind. Maybe with the right author there might have been a compelling Lovecraftian tale involving a spiral into madness about a 23 Cult, but as it stands, The Number 23 is a confusing tale with an unbelievable combination of conspiracy theories, split personalities, amnesia, and coincidence.
Few movies of 2007 were as difficult to endure as this one. It's brutally uninteresting, poorly-written, and directed by one of the most inept scuzzbuckets to ever infect Hollywood.
#8 – Pirates of the Caribbean: At World's End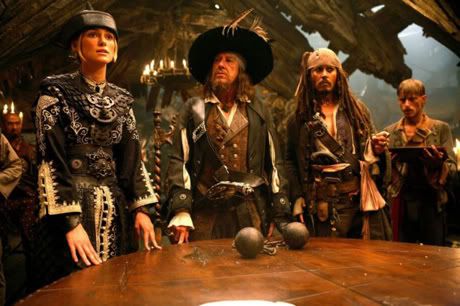 This is probably the most predictable entry on the list, for which I apologize. I hate to beat a dead horse that's already been pummeled on every other critic's worst-of-2007 list, but we're not just picking on At World's End; it's been rightly vilified by audiences and critics alike, but everyone took their kids to see it anyway because children don't care that a movie is utter crap. They just want to see Captain Jack Sparrow. It's infuriating to see a movie that's such a colossal failure at an artistic level become a huge financial success. Even though it unquestionably sucks, it still made a zillion dollars. Deep down, we just wanted to see Jack Sparrow, too.
I don't know when the Pirates story got so complicated, but At World's End is such a muddled, labyrinthine mess of schemes within schemes, shifting alliances and triple-crosses that eventually anyone attempting to pay attention to the story just lost interest at the midpoint of the film and trusted that at the end, Jack would swordfight with the bad guy and there would be lots of cannons going off, and at the end everyone would be happy. How much could this story have been saved but for the want of a pair of scissors to cut about forty minutes of subplots? Is it so wrong to want to see a simple swashbuckling story of good guys fighting bad guys, with lots of swinging on ropes and smacking of cutlasses? This story was so over-written that most of its running time was dedicated to the characters explaining aloud the arcane reasoning behind their many betrayals to the point that none of the characters were at all likable, and the protagonists' already shady morality quickly turned sour to craven duplicity. Will Turner, the de facto hero of the tale, turns coat on the entire gang, selling everyone out to the East India Company without remorse, and this is after Elizabeth Swann feeds Jack to the kraken to save her own ass. Elizabeth curses her ex-fiance Norrington for choosing the side of law and order, and attempting to save her from a pack of wretched, murdering pirates, and barely seems bothered when he is killed protecting her.
Maybe if the story didn't pretend to be so smart, I wouldn't over-think the morality of the situation, but here's the reality of it all: our protagonists are remorseless murderers, rapists, and thieves who prey on the innocent. They have no loyalty to one another and their greed is only surpassed by their instinct for self-preservation, and we're meant to think that the British government are the bad guys for wanting to put an end to them? Chow Yun-Fat's character tried to rape Elizabeth mere moments before she defiantly aligns herself with the pirate crew when faced with capture at the hands of the British. You can't have it both ways here. It's clear that the pirates are meant to be symbolic with freedom, fighting against oppression, but freedom to do what? Rob, pillage, and maim? Save your breath. You can't put pirates in white hats. I just find it ironic that Captain Barbossa, the villain of the first movie, has never in the entire trilogy done anything particularly wicked and, in fact, has never lied or killed anyone he hasn't been forced to.
It's a Chinese fire drill of movies: too long, too wordy, and too full of unresolved subplots. At World's End is a confusing, maddeningly disappointing mess that almost any of us could have outlined more efficiently. It tries to fix everything that should have been dealt with in its equally-bloated predecessor while simultaneously throwing in a dozen more twists, and ends up accomplishing nothing.
#7 – 28 Weeks Later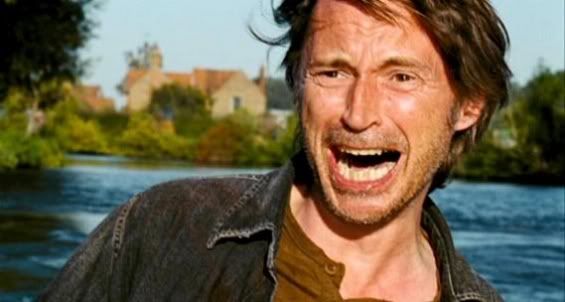 28 Days Later brought a very unique twist to the traditional zombie flick by making the undead (who aren't quite dead, just extremely pissed off) very, very fast and possessed of all the athleticism and fury of a berserk human being. Where most zombie movies present the survivors with a shambling horde, 28 Days stacks the deck even further: you can't outrun these bastards, they're every bit as smart as you, and you don't even have much hope of taking one in a fight. Worse, even the slightest injury can turn you into one of them in seconds. It's this innovation that made you ignore the glaring weaknesses of the film: the third act is a total joke, and even the filmmakers admit in the deleted scenes that they'd written themselves into a corner. The "answer to infection" seems to be simply waiting for them to starve to death, since the infected don't eat, but even a grade school student would ask why they didn't die of thirst long before that. I've always wondered why, if the infected are so angry, they don't attack each other. Or how they can so easily identify an uninfected survivor.
The core of the first movie was how well we identified with the survivors' plight and pulled for them to prevail. The characters were likable, believable and sympathetic, and when one of them became infected it impacted the audience like a punch to its collective gut. We'd become friends with these people and we wanted them to find a way out of that hell.
28 Weeks Later misses the point completely. It starts off promisingly when a small group of survivors finds their haven attacked and destroyed, leaving only one survivor who is forced to abandon his wife and child to a mob of the infected or suffer a similar fate. Had the movie been about this man's survivor's guilt, it could have been something truly special, but instead it paints the man as an utter craven who must be punished. It doesn't hold water. There's nothing the man could have done except engage twenty infected in hand-to-hand combat. But the movie seems to expect us to think he's a total scumbag who made the wrong choice, when running is the exact choice almost any of us would have made. It doesn't help that the "protagonists" consist of a U.S. Army sharpshooter who can't follow orders, a woefully-miscast hematologist who keeps insisting she can find a cure even while everyone and their mother is trying to kill them, and a pair of annoying children who immediately defy the safety rules laid out by the military and unleash the infected on the U.K. once again.
The movie totally misjudges our loyalties, trying to make us sympathize with the mincing idiot kids who wander into an infected zone instead of their father and the military, who are doing everything that's necessary to ensure the safety of the entire country. We're meant to root for the sniper who can't bring himself to open fire on a panicking crowd and think that the military is evil because they've given the doomsday order to eradicate everyone in the containment area to prevent the spread of the infection– a perfectly sensible plan considering the nature of the infection. Is that really the extent of this movie's political subtext: killing civilians is bad?
The movie's setup requires that a lot of truly stupid things need to occur for the infected to devastate England again. The children somehow find their mother, who is a carrier of the virus but is herself immune. Instead of destroying her immediately, the doctor insists on taking her into the heart of the military stronghold for further study. Of course, the military leaves her totally unguarded and it's not long before the entire complex is hollowed out by the infection from the inside. The containment areas prove to be useless, with more holes than a wiffle ball and sealed with cafeteria doors secured with a few chains. By the time all of these plot contrivances converged, I was so disgusted with humanity that I'd decided mankind is too stupid to be allowed to live and rooted for the infected to put them out of their misery. Never a good sign in an effective horror movie. If there's one thing I hate, it's a film that makes us root for murder.
From there, the movie becomes more about shaking cameras, special effects, and loud noises. Having failed to make us care about anybody, it tries to ratchet up the action by racking up the body count. Images that should have been effective come off as clichéd and unclear, like watching the infection roll through the containment zone, which was too dark and spastic to be frightening, or the firebombing of London, which doesn't have the emotional impact it should have. Somehow, the infected outrun the blast anyway. The worst offender was the gratuitous, unrealistic scene where Michael from Lost chops up a field of infected using the whirling rotor blades of his helicopter. It's that moment where 28 Weeks Later becomes exactly what I hoped it wouldn't become: a splatter flick, interested only in setting up gory glory shots and not in telling a story.
#6 – Kickin' It Old Skool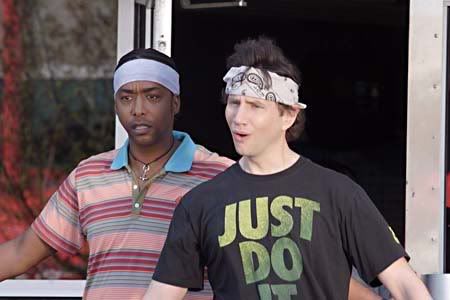 The hell of it is, I know that Jamie Kennedy is capable of better things. He's got great comic timing, and he's proved that he's got acting chops in better movies than this, yet he spends most of his time slumming with a Candid Camera show known as The Jamie Kennedy Experiment and making movies like Son of the Mask, or more commonly, flicks where he's a white guy pretending to be a black guy, such as Malibu's Most Wanted.
In Kickin' It Old Skool, Jamie Kennedy is a white guy who thinks he's a black guy. Isn't that FUNNY?! Actually, the movie is more a love letter to the 1980s: in this movie, a kid obsessed with emulating his favorite breakdancers sustains a crippling head injury and spends over twenty years in a coma. When he wakes up, he's still every bit the same pre-teen kid, but now he's stuck in the 21st century and a thirtysomething's body, and of course, everything he knows relates to the 80s, and so most of what he says involves dated, obscure references and old-skool lingo. People under the age of 25 need not apply; none of them will catch the references to Full House, Knight Rider, or the days when MTV used to actually play good music. Most of the gags are far more obscure.
Think of it as 13 Going on 30 if it were written by the authors of Beavis and Butthead, stocked to the gills with actors from MadTV Jamie must have called over during their lunch hour, and without any semblance of heart or charm, and you've got a fair idea of what this movie is like. It's full of broad, mean-spirited stereotypes. It's racist, misogynistic, juvenile, and only as funny as someone pulling their eyes into slants and singing "Me Chinese, me make joke, me make pee-pee in your Coke." It depicts women as complete dolts, takes every opportunity it can to make fun of Jews and fat people, and makes sure to whip every sassy black stereotype possible into the one actual African-American woman who couldn't get out of this movie.
It wastes the opportunity to explore the cultural differences between the 80s and the 00s, instead just making as many jokey, insulting references to the 80s as possible and bashing them against as many cultural stereotypes of today as it can. It's an idea that's been done many, many times before, and the movie has nothing to contribute to make itself distinct in any way. In Harold and Kumar Go to White Castle, Neil Patrick Harris accomplished in five minutes what Kickin' It Old Skool failed to do in its entire running time: showing us that there wasn't much of the 80s to be proud of, and we should all probably pretend like the whole decade didn't happen.
Maybe if you're the sort who still finds jokes about David Hasslehoff funny, you'll enjoy a few minutes of this one. Maybe you still remember enough of the Garbage Pail Kids to get a chuckle out of the introduction. And if you're one of the two-dozen people alive who have actually seen Breakin' 2: Electric Boogaloo and remember more than the hangover you had afterward, you might get some chuckles out of the climactic breakdancing scene. But I doubt it.
#5 – War
By far the most personally disappointing movie on my list, War has a simple, kickass premise: let's find the two biggest, baddest motherfuckers in action movies today and make a movie where they pound the fudge out of each other for its entire running time. What should have been a modern cinematic Ali vs. Frazier, however, turned out to be a complete waste of time, squandering its two stars and misleading the audience with the promise of an apocalyptic confrontation between Jet Li and Jason Statham that never pays off. Incompetently filmed and choreographed, the few action sequences rarely involve Li or Statham on camera at the same time, and the final (and only) battle between the two is the very definition of anticlimactic. What should have been a fistfight so awesome it might have split the world in half, on the level of Bruce Lee vs. Chuck Norris, War's final fight lasts only a scant few minutes, is difficult to see clearly, and has no "emotional content," as Bruce would call it.
War is over-written, dispirited, and most unforgivably, boring beyond belief. It needed a sense of fun. With stars like Li and Statham, one wonders how you could screw this up. Both of them make better action movies in their sleep (see: Crank, Fearless). War needed action, fury, and adrenaline. By god, War needed balls.
#4 – Delta Farce (Now available on Blu-Ray!)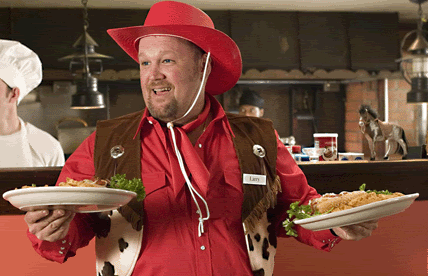 The world makes me sad, and I'm almost certain that when I someday snap and start shooting people from a bell tower, it will probably be because of the Redneck Blue Collar Comedy Tour. Larry the Cable Guy, fake redneck and professional asshole, brings us a… "movie" (I refuse to call it a comedy) full of his…material (I refuse to call his act comedy) which mainly consists of drunken crackers acting like uncouth morons where drunken crackers do not usually act like uncouth morons, since few rednecks ever manage to leave their mobile homes.
It's a movie that makes Jim Varney's "Ernest Goes to…" series seem well-crafted and wholesome. At least Ernest is an affable, well-meaning dope. While he's annoying and borderline retarded, he's got a big heart and there's no malice in the man. Larry's brand of comedy is a hateful, sneering, jingoistic rhetoric directed either at people who are too stupid to know that they're being insulted with Jeff Foxworthy's "You might be a redneck" schtick, or who revel in their beer-swilling, inbreeding, intolerant stereotypes. It's the kind of movie directly targeted at the sort of people who refer to people from the Middle East as "towelheads" or "sand niggers," or Mexicans as "wetbacks," with a heaping helping of homophobia. Delta Farce is full of crude, baseless stereotypes, even as their own characters emulate the worst redneck stereotypes themselves. There's nobody real or likable here.
It was so unfunny, so painful to watch, I started cleaning my room instead of trying to pay attention to the events on-screen. It would only have made me angry anyway. When I'd finished, I still had seventy minutes of the movie to get through, and I fell asleep. All I really remember is that it involves a group of idiot National Guardsmen who somehow get dropped in the middle of Mexico and are so stupid that they think they're in Fallujah. I assure you, it's every bit as funny as it sounds. From here it rips off The Three Amigos as they mistake the locals for Al Qaeda and insurgents but (in a plot twist even a redneck would see coming) find themselves pitted against actual terrorists after all.
It all boils down to racism, homophobia, toilet humor, and slapstick. There's not a single chuckle to be found here, but the gags repeat themselves anyway, as if watching the same joke play out over and over will somehow make it funnier. It doesn't, and if you found a single moment of Delta Farce funny, there is something seriously wrong with you.
(Historical Note: The first time I tried to pick up a copy at my local Blockbuster Video, every copy, even the versions on Blu-Ray, were checked out. The store had purchased over 120 copies. I had to come back a week later.)
#3 – Epic Movie
This series peaked rather early with Scary Movie, and from there has become one of the most reliably shitty series in movie history. I barely see the merit in Scary Movie, actually, since it's primarily a spoof of Scream, and Wes Craven had always intended that to be a self-referential send-up of the teen-slasher genre already. Still, it had some decent gags, and the comedy was shockingly bawdy for its time: a template that has been ruthlessly copied to very little success since. Can you spoof a spoof? Or were the writers of Scary Movie not able to identify a satire when they saw one? This seems rather likely, because none of the later movies have been worth a damn.
In fact, I'm not sure anyone involved with this franchise knows how to write a comedy at all. The first movie had some structure, but since then, all that has gone out the window. All you'd get was an increasingly flimsy central narrative, on which was hung bad re-enactments of iconic scenes of the summer blockbusters of last year. Perhaps with better writers, these spoofs might have been entertaining, but the writers of Epic Movie mistake sophomoric poo-poo, wee-wee talk for comedy, peppering their little skits with copious amounts of bodily fluid, slapstick and cartoon sound effects. It's a lower form of comedy than watching grade-school kids making constant fart noises and howling "THIS IS SPARTA!" over and over again– and if that joke hasn't run its course by now, just wait for Meet the Spartans, sure to put the final nail in that coffin once and for all.
None of these sketches have any relevance or meaning, there's no wit or humor beyond doing over-the-top impressions, farting, slipping on monkey spooge, and mugging to the camera. Often, when the bits are clearly dying, the writers will attempt to punch-up the gag by randomly throwing in a smeared celebrity to run into the shot, do something humiliating, and leave. So expect to see Paris Hilton appear about a dozen times in the course of these movies to say "That's hot," or Britney Spears to say "Oops, like, I did it again." Because making fun of Paris never gets old.
She's a huge whore, you know.
It's hard to believe these sketches were written in advance. Some of the skits don't even have punchlines or setups; oftentimes the scene will just peter out with the actors looking at one another in a prolonged, awkward silence, or the editor will spare us and joltingly cut to a new skit after a few more fart gags. The actors look like they ceased to give a shit long ago and are just trying to make each other laugh, because nobody behind the camera cares if the audience does. With so many talented comedians and actors on the set, you'd think someone might have spoken up and improvised something better than this.
What really bothers me about this series is that they betray their own premise and include films outside of the genre they're trying to spoof. The inclusion of Dead Man's Chest, The Chronicles of Narnia, and Superman Returns somewhat make sense, but how do Borat, The Da Vinci Code, Snakes on a Plane, Nacho Libre, X-Men, and Charlie and the Chocolate Factory qualify as epic movies? Further, how can you possibly spoof comedies? There is no justification for having characters like Nacho or Borat in movies like this. It only proves how bankrupt of ideas they are, when they only thing they can write that's funny is bringing Borat onto the screen to say "Ver' Niiiiiice!" And Snakes on a Plane?? They seriously mean to tell me that Snakes on a Plane needed a send-up? It IS a send-up, you fucksticks! That was the whole point of the movie.
It's every bit as fun as spending a week with that kid in high school who speaks only in movie clichés, usually the same ones over and over again. Comedy is not just smearing shit on your face and spouting off your favorite lines from Predator. Believe me, I know. You have to do something new with it, or what are we really paying for?
#2 – Day Watch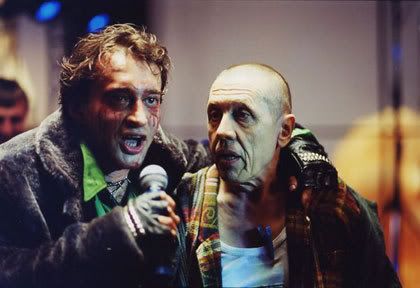 I will never understand why some people like this series. Some people like rubbing their finger on their own asshole and sniffing it, though, so apparently there's an audience for anything.
Day Watch is the sequel to Night Watch, which is about a race of vaguely-defined supernatural beings representing the forces of Good and Evil who have worked out a bureaucratic arrangement to prevent open hostilities. The Night Watch is charged with the task of policing the Dark Others and keeping them in line, and the Day Watch apparently makes sure the Light Others don't…don't…well I'm not sure what the Light Others would do if left unsupervised. Why, there'd probably be a rash of good deeds, people holding doors open for other people, and old ladies being helped across the street, and we can't have that.
Zavulon, Lord of Darkness, has orchestrated a master plan to turn our hero Anton's estranged son Yegor (who happens to be The Chosen One) to the Dark Side, and in doing so, plans to use him to frame Anton for murder and somehow break the truce by luring Anton's new protegée Svetlana (who is also The Chosen One…don't ask) to confront Yegor and trigger the apocalypse. Why? Because he's Evil! What else is he gonna do? And apparently you have to be careful about these things. You can't just have the Dark Others openly break the truce because there's some poorly-defined authority figures known as the Inquisition who will kick your ass for any shenanigans. In the meantime, Anton struggles to prove his innocence by gender-switching with a girl who transformed into an owl once in the first movie and does fuck-all in this one, and seeking the legendary Chalk of Fate. It's a magic stick of chalk. When you write stuff with it, it happens. So if I were to write "Meatball Sandwich" on a specific place that defines my destiny, someone would arrive that very moment to deliver a meatball sandwich. Or I would turn into a meatball sandwich. Or something. Point is, its power is limitless.
Despite its admittedly awesome premise of a Russian city populated with warring vampires and were-beasts, I have never seen a film of this type so crushingly boring in all my life. It's two-and-a-half hours long, a punishing length that could easily have lost a full hour of needless exposition and fruitless wandering. Almost nothing happens after the opening scene until the two hour mark, when Yegor the Invincible unleashes a magic yo-yo that singlehandedly destroys half of Russia, while a rampaging Ferris wheel smashes Moscow like King Ghidora. The vampires display no powers beyond hypnosis and glowing eyes, the were-creatures never display their alternate killing forms aside from one of Zavulon's hitmen who is, no joke, a Were-Parrot.
The camerawork is amateurish and dizzyingly incoherent, the editing lazy and indulgent. The special effects are childishly inept. The acting is consistently stale and, when the melodrama escalates, hilariously corny. At no time does the rambling story make any sense whatsoever. I defy you to explain the Night Watch's rocket-powered utility trucks, the magic flashlights that set off car alarms all over Moscow, the yo-yo that can level whole continents, or how a vampire can kill a woman using a voodoo juice box. And the ending is the icing on this shit sundae, a predictable deus ex machina that hearkens back to Superman flying around the world fast enough to reverse time, leaving the story back where it started with nobody having learned a single solitary thing.
Suck it, Russia. And Bosswald can suck it, too, for making me watch this anal discharge of a movie.
#1 – Southland Tales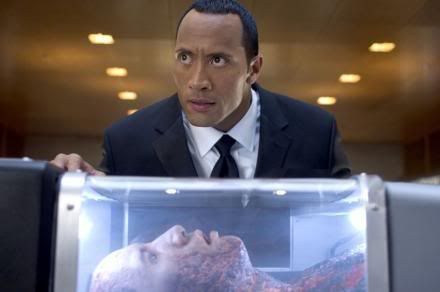 2007 was a dreadful year for movies. I tried making a top ten list of the best films of the year and couldn't even name ten I'd want to watch a second time. I had to pad it out with the DVD re-releases of Robocop and Blade Runner because I couldn't in good conscience put Grindhouse or Live Free or Die Hard on any "best-of" list. The summer season was a crushing disappointment with Pirates of the Caribbean and Transformers, and got downright criminally bad with Perfect Stranger (Exhibit D in my case for Halle Berry returning her Best Actress Oscar) and Lindsay Lohan's I Know Who Killed Me. But believe it or not, there was a movie worse than Halloween, Hitman and Uwe Boll's latest exploitation of Canadian tax loopholes: Bloodrayne 2: Deliverance, and it prominently features a four-foot toilet, a flying ice cream truck, and two Stifflers.
Southland Tales may not even count as a 2007 film because director Richard Kelly was forced to spend over a year re-editing and re-shooting it following a catastrophic opening at the Cannes Film Festival where it was utterly savaged by critics. It's sad and also somewhat terrifying to think that the '07 release was the cleaned-up, sensible version; the original cut was about twenty minutes longer! The bad news is that the movie's still two hours too long.
Kelly, famous for the insufferable and vastly-overrated cult favorite Donnie Darko has confirmed fans' fears that the success of his first effort was a fluke: fears that began when his director's cut of Darko turned out to be noticeably inferior to the original. Southland Tales is what happens when you give him far too much money and total creative control. It's a total narrative nightmare by design, as Kelly seems to fancy himself the Jackson Pollock of script-writing, throwing thousands of ideas against the wall just to see what sticks. I walked out of the theater feeling like I'd just watched a sci-fi thriller where the scenes were written in the same random style as the gags on Family Guy. I'm certain I saw a movie where a lot of things happened, but I have no idea what those things were.
I know what he's going for with movies like Donnie Darko. I really do. He wants to create dreamlike films that eschew a traditional narrative structure in favor of challenging viewers with imagery and atmosphere, much like David Lynch has been doing for decades. I was never a fan of this method of filmmaking, but I can certainly appreciate when it's done well, such as Lynch's masterful INLAND EMPIRE. Kelly has no such technical expertise and showcases little but a clumsy, rambling script that's rather depressingly derivative of his own work.
Describing what the movie is about is a total waste of time. I'll tell you generally what happens, which is also a waste of time, but at least this way the review will have some substance. I'm not sure the movie is really about anything other than Richard Kelly trying to demonstrate how clever and abstract he can be. It begins in the classic tradition of Star Wars with Chapter 4 (chapters 1-3 soon to be available in comic book form) and a lengthy opening narration by Justin Timberlake, explaining that the movie takes place in the not-too-distant future where the world is embroiled in World War 3 following a series of nuclear attacks in Texas. Timberlake plays a soldier named Abilene who got accidentally fragged by one of his own men, and because of the wretched scar on his face and drug addiction is no longer bringing sexy back. He now spends his time manning a sentry gun on the California coastline reading narration for crappy movies.
His post overlooks a huge ocean-based power plant built in response to the U.S.'s crippling energy crisis, designed by Baron von Westphalen (Wallace Shawn, a.k.a. Vizzini from The Princess Bride), a gnomish-looking man who dresses like Liberace but has also seemingly invented perpetual motion. He calls the process Liquid Karma, a remote energy source that harnesses the ocean's waves to power every car in America. This issue is quickly confused out of all ability to reason when it's revealed that Timberlake is addicted to Liquid Karma and injects it into himself regularly. The confusion begins. Which is it, a power source or a narcotic? It's a power source and a narcotic!
There's a memorable scene where a hallucinating Abilene has a lengthy dream sequence where Timberlake lip-syncs to The Killers' "All These Things That I've Done" while dancers wiggle on the skee-ball machines. It's very reminiscent of the freak-out sequence of The Big Lebowski, only without a teeth-gratingly annoying song that repeats the phrase "I've got soul but I'm not a soldier" eight hundred times.
Anyway, the world has become a rather boring Orwellian dystopia where the right to privacy no longer exists. The Internet has been locked down and controlled by a government agency called USIdent, ripped right from the pages of Terry Gilliam's Brazil where the employees wear transparent plastic clothing for absolutely no reason other than to be allegorical. The department is run by the First Lady who dress like a villain from the old Flash Gordon serials with a giant black flared collar you could hang-glide with. Kelly's trying to be both satirical and horrific with his portrayal of the government's disregard for personal privacy, masking it behind sci-fi alternate history trappings, but it's all tedious and ineffective. Not only has this kind of satire been done many, many times before, but he doesn't even satirize them that well. News flash: the current administration is a pack of warmongering, officious dirtbags who spend most of their time trampling all over individual liberties. Raise your hand if you're shocked. And wow, the presidential candidates are "Eliot/Frost," because the narrator paraphrases T.S. Eliot and Robert Frost constantly! It's called subtlety, Richard, look into it.
From there, the movie proceeds to introduce us to a cast of thousands, each character with a name that sounds more made-up than the last. Dwayne "The Artist Formerly Known as The Rock" Johnson stars as Boxer Santaros, a conservative actor with marriage ties to a popular vice presidential candidate. A group of Neo-Marxists, in an effort to discredit the dominant Republican party, hire a Stiffler (Seann William Scott) to impersonate his twin policeman brother Stiffler to take Boxer on a police ride-along, and then set him up to look like a racist in a staged double-homicide. Have I lost you already?
It gets better. The staged murder goes unexpectedly awry when an actual psycho cop appears (played by a platinum blond Jon Lovitz) and shoots the actors for real. This movie contains four Saturday Night Live castoffs, including Cheri Oteri, Janeane Garofalo, and Amy Poehler. In fact, MadTV's Will Sasso plays a murderous double-agent named Fortunio (yeah, right). There must have been a four-for-one loser comedian special at the actor store.
What the Marxists don't know is that Boxer has his own problems. A little while ago he suddenly drove off into the desert, fell into a dimensional rift and returned with amnesia, anxiety, and quite a bit of dementia. He then moved in with former porn-starlet and Britney Spears simulacrum Krysta Now (Sarah Michelle Gellar), and instead of trying to piece his memories back together, decided to co-write a screenplay with her in which he plays a cop named Jericho Kane who discovers that the "rotation of the earth is slowing down at a rate of point zero, zero, zero, zero, zero, zero, zero six miles per hour each day," which will eventually spell the end for all mankind.
What Boxer doesn't know is that his screenplay is somehow right on the money, he has a wife back home, Buffy is secretly working with the Marxist cast of SNL, and there's an insane woman working at USIdent who has grown obsessed with a copy of Boxer's screenplay that she pirated online. She shovels an obscene amount of Cheetos into her mouth constantly and has gone insane from monitoring toilet stall security cameras, believing herself to be a character in the movie. She calls Boxer (as Jericho) and reads the script to him in order to lead him to the truth behind the apocalypse.
It all has to do with a temporal rift that opened in the desert, which was somehow caused by Vizzini illegally experimenting on soldiers in Iraq. Dimensional rifts are bad news in any Richard Kelly movie, and man, does he like to use them as a plot device or what? This Earth is doomed, however, because unlike Donnie Darko there's no giant psychic bunny from the future to guide The Rock. Vizzini, despite causing the imminent destruction of the world is rather cavalier about it and decides to hold a gala on his flagship, opening the door for Rocky to say the line of the year: "Everybody move to the back of the Mega-Zeppelin." It makes me sad, because I know I'll never be able to use that line in polite conversation.
Meanwhile, the twin Stiffler Two escapes from his bonds and the two Stifflers struggle to reunite with one another, but they're hindered by an ass-kicking Cheri Oteri, who captures Stiffler One. Stiffler Two gets re-captured by Connor MacLeod, who drives an ice cream truck full of automatic weapons and a shoulder-mounted surface-to-air missile launcher. Wow, suddenly Highlander 2 isn't Christopher Lambert's most undignified movie!
What the Stifflers don't know is that Stiffler One also fell into the dimensional rift, and when you do that, the rift creates a clone of you 69 minutes into the past. If the Stifflers ever share the same physical space, they merge and form a Mega-Stiffler that will devour all life on the planet! Kevin Smith, appearing in this movie as a legless war veteran heavy with age prosthetics, explains that the government was getting no results throwing monkeys into the rift so they took the next most obvious step (and I swear to God this is true): they started throwing actors in. Who better to explore the fourth dimension than The Rock? He is the People's Champion, after all.
Somehow the Rock Clone got killed, but the Stifflers escaped, and if they ever meet what will really happen is "the fourth dimension will collapse upon itself, you stupid bitch!" (That line nearly ousted the mega-zeppelin one as my favorite!) It's sort of like what happens to temporal clones who touch in Timecop, only way more catastrophic!
And then the movie starts getting crazy. Oh yeah. It wasn't crazy until now: the Rock's Jesus tattoo starts to bleed; Buffy starts to have a three-way ballroom dance; two SUVs do it doggy-style; John Larroquette gets tasered in the nards, and a hippie fires a Stinger at a blimp from a flying ice cream truck. Why? I don't even think Richard Kelly knows, but I'm sure he'll tell you to buy the trade paperback comics and the director's cut on DVD.
Southland Tales is not only as the worst movie of 2007, but one of the worst of all-time. It probably won't take any Razzies or become an Internet meme, but will quietly take its place alongside other Cannes disasters like The Brown Bunny and Heaven's Gate as one of the most punishing, painful, and disappointing examples of artistic excess and self-indulgence to ever blight the silver screen. People will watch Donnie Darko years from now and ask "Whatever happened to Richard Kelly?"
Southland Tales happened. And that's the way his career will end: not with a bang, but with an empty theater.