In what could be the most death-defying, most perilous stunt ever attempted, and perhaps my last ever video, I am going to review…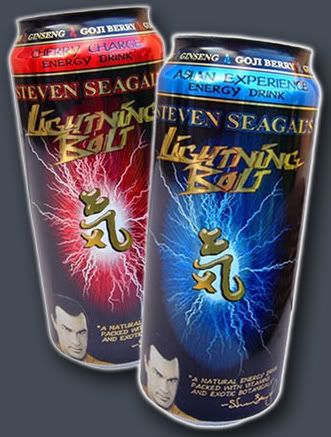 STEVEN SEAGAL'S LIGHTNING BOLT ENERGY DRINK
For those of you who don't know, action star, fitness guru, and rock legend Steven Seagal has created an all-natural energy drink which you can only find in the finest 99-Cent Only Stores. I bought a whole crate of the stuff in its two awesome-charged flavors: Cherry Charge and Asian Experience. And I, faithful viewer, will drink of both flavors and allow you all to watch as I (if I am worthy) will assume all of Steven Seagal's powers via the exotic botanical magic of the Seagal Lightning Bolt.
I assure you, the video and its outcome will not be staged in any way.
It's time for you to place your bets on what the outcome will be…
***
Oh, and in case it helps weigh your decision, I will be sampling both cans just to inform the viewer of how each drink tastes, and from there I'll make the decision on which can to finish first. Also, the cans are 8 oz large.
Here are some nutritional facts about each drink:
Asian Experience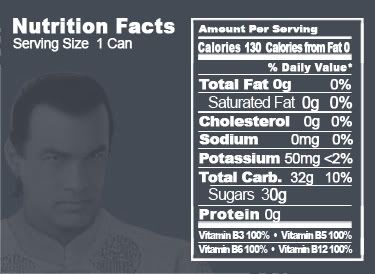 * Not a significant source of Vitamin A, C, Calcium, Iron, or dietary fiber.
* *Percent Daily Values are based on a 2,000 calorie diet.
* Ingredients: Carbonated Water, Cane Juice Concentrate, Gogi Berry Concentrate, Herbal Tonic Blend (Guarana extract, Green Tea Extract,Gogi Berry Extract,Cordyceps, Yerba Mate, American Ginseng, Ginkgo Biloba), Citric Acid, Natural Flavors, Natural Color, Niacin, Pantothenic Acid, Pyridoxine HCL, and Cyanocobalamin
Cherry Charge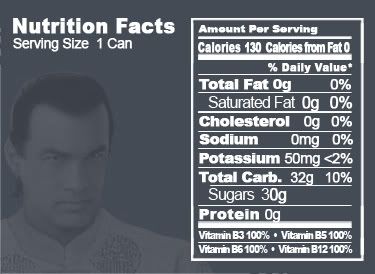 * Not a significant source of Vitamin A, C, Calcium, Iron, or dietary fiber.
* *Percent Daily Values are based on a 2,000 calorie diet.
* Ingredients: Carbonated Water, Cane Juice Concentrate, Herbal Tonic Blend (Guarana extract, Green Tea Extract, Gogi Berry Extract,Cordyceps, Yerba Mate, American Ginseng, Ginkgo Biloba), Citric Acid, Natural Flavors, Natural Color, Niacin, Pantothenic Acid, Pyridoxine HCL, and Cyanocobalamin